Guess who's back like a brand new invention?
This girl.
Until Sunday, at least, when we fly off to NYC.
No worries, the posts will be coming steadily!
Some by me, some by some fantastic guest posters.
Today I'm linking up with Alycia from The Crowley Party to share my Tid Bits with y'all: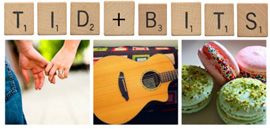 Since I've been absent for the last few weeks I have a few updates:
1) I passed my final test of PA school!
No more studying!
(At least until boards in August)
After 6 grueling hours of testing yesterday and a standardized patient encounter that was filmed, watched, and graded by our teachers, I have come out un-scathed.
I will officially graduate in August!
. . . and now I can finally read real book and blog and travel in the mean time!
2) The littlest Rat graduated . . . and she was valedictorian!
3) I'm shooting my cousin's wedding this weekend!
. . . and I can't wait to share her bridals with y'all!
I'll be posting them next week so be on the lookout
4) I backposted all the Original Dashboard Diary posts, so in case you are looking for them, just go
here
5) Oh yea and one little announcement, in case you missed it a few weeks ago scattered amongst all the Dashboard Diary reposts . . .
We're engaged!
I'm so thrilled to be able to put all my newly acquired spare time into wedding planning rather than studying!
As of yesterday we got the venue we wanted and we have officially set a date:
November 17, 2012
Thats right. 2012. This year.
. . . I've already booked a venue, rehearsal dinner venue, photographer and we are taking our Save the Date photos today!
On top of things? Yes.
Now on to more important things, catching up on all my favorite blogs!